Changed homepage graphic to The Strange Ones.

Updated Store (removed purchase links).

Updated Resume. Please check out all the new video links!

Happy Thanksgiving, everybody!


Please help fund The Adventures of Drunky, an incredible project by my friend Aaron Augenblick on Indiegogo! This film is the reason he started Augenblick Studios 17 years ago and will be the first animated feature to be made in Brooklyn! The success of this campaign will serve as a broadside to the movie industry that there is indeed an audience for adult cartoons. Aside from seeing this come to life, you can also get some really sweet perks! Come on, everybody, let's get together and do this!

Indiegogo Campaign for The Adventures of Drunky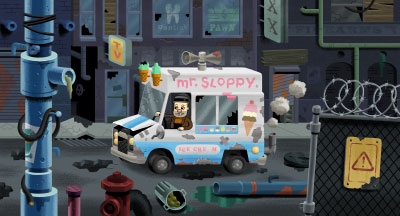 My comic compilation Notes From Underground & The Pessimist is part of a zine exhibit at Pace University's Birnbaum Library (see top right of pic)! Thanks, Brendan!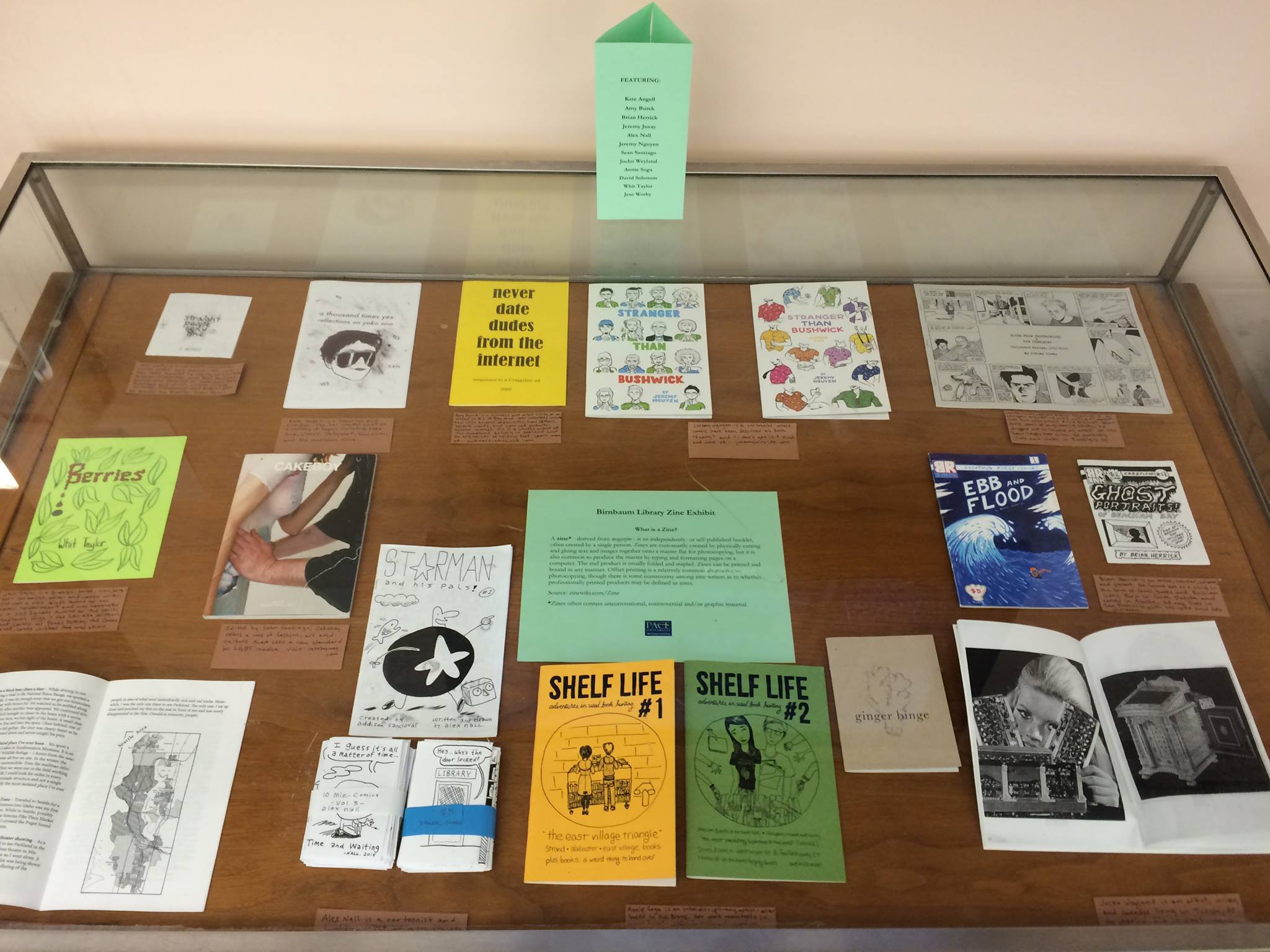 Check out this Katy Perry Candyland cartoon spoof I did the backgrounds for!




Hey, check out the trailer for this new show on Fox, Golan the Insatiable, that I worked on with Augenblick Studios!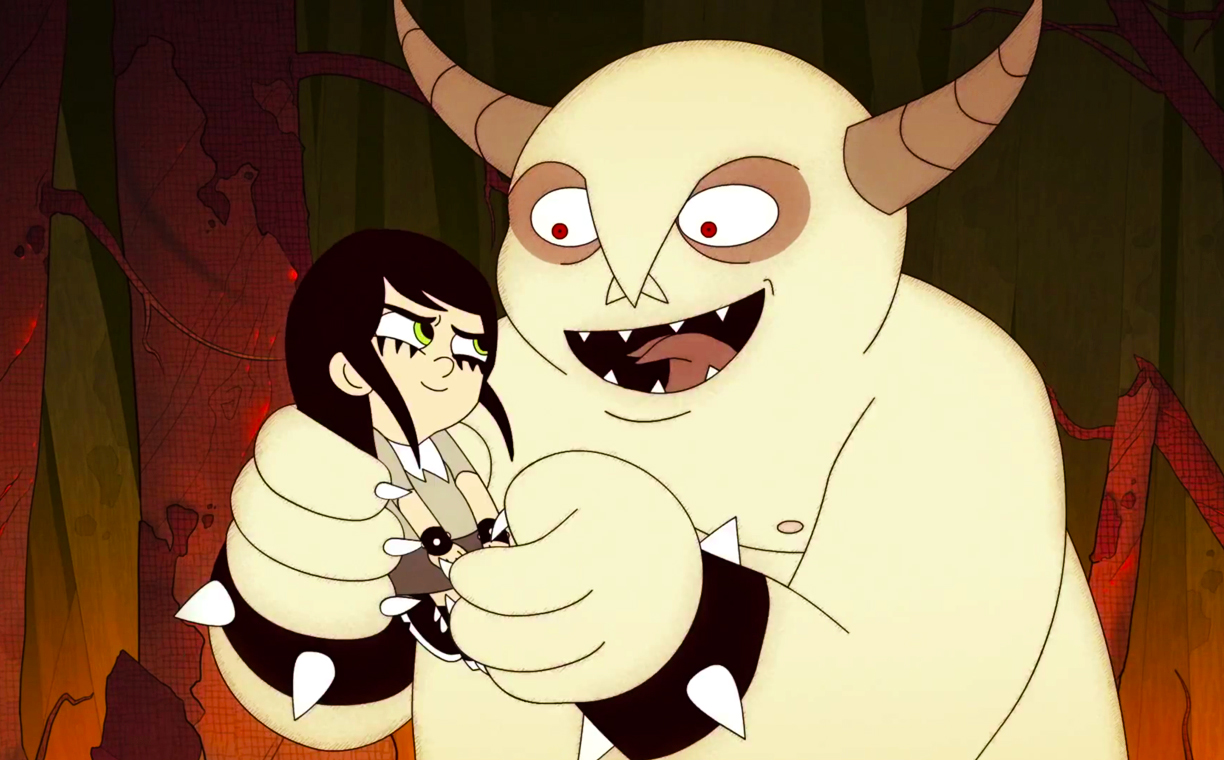 You can read all about it here and here.

Updated resume.


Thanks again to Matt & Kseniya for another great Brooklyn Zine Fest! Saw old friends and made some new ones! Click here to see the official pics from the fest (I'm in there somewhere) or click the pic below to see mine.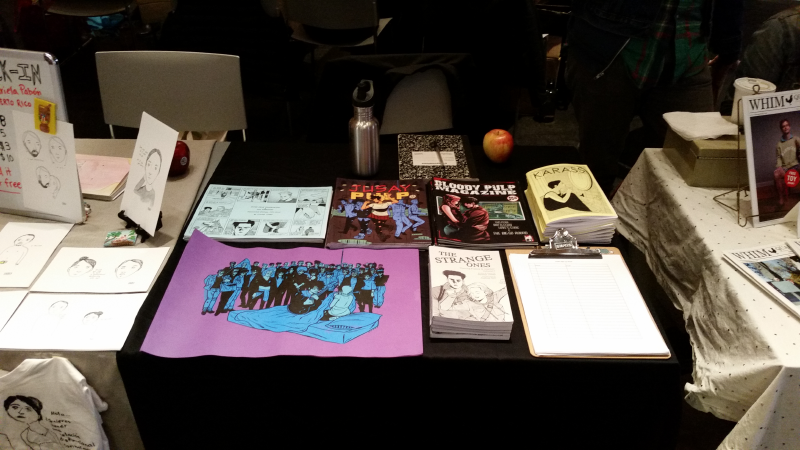 Added about page.

Updated contact page (added social media links).

Updated resume page.

Updated store page (added blinking 'new' gif to the bottom menu, will remove after a few weeks). Made ebook versions of Jusay Pulp #1, The Strange Ones Vol. I, and Notes From Underground & The Pessimist (Collected Strips, 1991-2012) available for sale. Also made hardcover edition of The Strange Ones Vol. I available for sale (limit 1 per customer, while supplies last). Removed the link to Jusay Cafepress (RIP).


Fixed any glitches due to the site's upgrade to PHP 5.4 (mainly the gallery popups). Let me know if you see anything weird. Thanks!

Also updated the contact page to include a link to my Twitter feed.


Thanks, Matt Carman and Kseniya Yarosh of Brooklyn Zine Fest, for another stellar festival, and to everyone who stopped by my table. Click here to see some pics.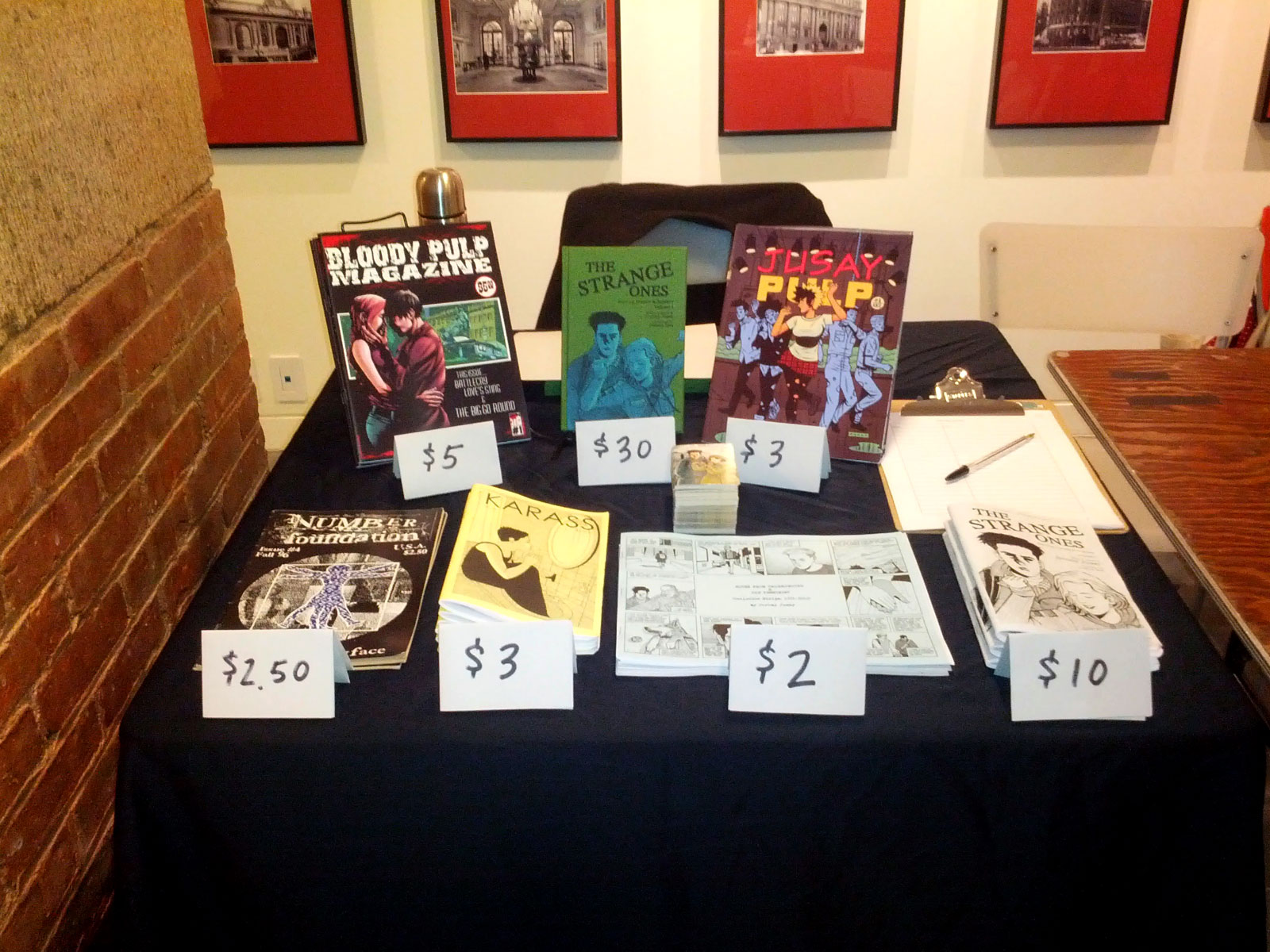 Made some cosmetic changes to the site overall. Also, the gallery no longer opens up a new window or tab and clicking 'close' brings you back to the page containing the original link.

Also added Reel Orchestrette and Augenblick Studios (redesign) to the web design portion of the resume page.


Added more images to the store gallery. Just click on any of the thumbnails in the store page.

Updated The Strange Ones Chapter 1 sample with the 2nd Edition version (slight cover change, addition of Yumi Sakugawa's blurb, and higher res), also added a .PDF version. Got rid of the strangeones_01.php page.

Made minor changes to the Hotdish Takedown poster in the artwork page.


Updated the gallery system yet again. This time, clicking on a thumbnail opens a new window instead of a transparent iframe, which just had too many issues. Touch capability and animation should now be improved. And you can now use page up, page down, up arrow, down arrow keys in addition to left and right arrows. And, most exciting of all, now the image changes dynamically to your browser window (try it out on your phone)! Affects artwork, news, and store pages. Will do the same for Circumcised at 13 and the deprecated Strange Ones, Chapter 1, when time permits.

Added a favicon to the website (it's that J in your browser tab). I know, soooo 20th century. Haha (not LOL).


Simplified the sitewide interface (lost most of the grey borders), and made it more smartphone/tablet-friendly. Also created an external .css file.

Added specific meta tags for each page.

Also fixed the standalone Circumcised at 13 page (it wouldn't load properly), got rid of its pointless intro page, and made it so that if you close it, it goes to the jusay.com homepage. Also did the same for the Strange Ones, Chapter 1 standalone page.


Updated the gallery popups to be swipable on touch devices (iOS, Android, Windows) and updated the interface. Applies to artwork, store, and news pages (also updated the interface for the standalone Strange Ones chapter 1 page, but it's no longer linked from anywhere except this news page).

Also added a 'Ghosts of New Wave' comic page, and an illustration for Matt Timms' Hotdish and Bars Takedown in the artwork page. Also removed background artwork predating 2004 (Shorties, House Arrest, Algebra, and Salvatore).

Updated resume page.


Upgraded galleries for The Strange Ones Chapter 1 preview in the store page, and 'Circumcised at 13' so that they popup and cycle through. Please let me know if anything breaks. Thanks!


Upgraded all image galleries to IFRAMES/DIVs. You can now use arrow keys to go through images of the same category. Please let me know if you have any problems. Affects artwork, store, and news pages.

Changed comic panels used for the Pulse comic.


Reorganized and redesigned the store page. Also made available a FREE downloadable .CBR (comic book reader) version of The Strange Ones Chapter 1.

Updated artwork. Added 'Pulse (Kairo)' - my contribution to Strange Paradise Zine by Jenny Zych and Anna Rose - to the comics section.

Added publication info to some of the titles in artwork.

Created a simple pop-up gallery in artwork, store, and news (clicking on the image advances to the next image alphabetically in the same category). Please email me if anything looks broken.

Updated reviews. Thanks again to Tenebrous Kate and Yumi Sakugawa for letting me use their awesome blurbs!


Check out this TED-Ed animation I worked on (storyboards and layout) for Augenblick Studios. Animation by Kristofer Wollinger, with help from Aaron Augenblick, Kristofer Wollinger, and Anne Morel (Armel Oenn).

TED-Ed - Alex Gendler: The History of Marriage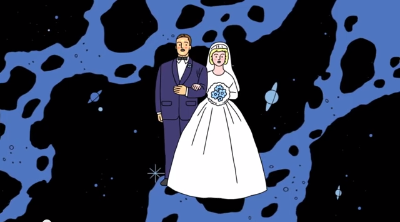 Also, check out this streaming video for "Arrowbics", the MAD short I worked on, and the GIFs it inspired. Thanks to smoakingarrows.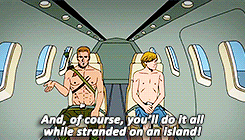 Updated resume page. Optimized homepage HTML for cover image.


Set your DVRs for a new episode of Mad (Cartoon Network) tonight at 8:30pm EST - an animated short I worked on for Augenblick Studios spoofing a certain CW superhero may or may not air!

http://www.cartoonnetwork.com/tv_shows/mad/video/index.html


Updated the XPi website FAQ page (added info emailed to me by Stephen and Roberto regarding RAM, networking, and booting from CDROM. Thanks, guys!


Friends, countrymen, lend me your ears, for now you can find copies of Jusay Pulp #1 at Bergen Street Comics, a really nice comic book store near the Barclays Center Arena in Brooklyn, NY. Thanks to Tucker Stone for taking them. First person to post or send me a pic of my comic on their shelves gets a free copy of The Strange Ones Volume 1!


Hey, true believers! You can now get a copy of Jusay Pulp #1 at Desert Island in Williamsburg, Brooklyn. First person to snap a pic of it on their shelves and post it on FB (or email to me) wins a copy of The Strange Ones Vol 1! Thanks to Robyn (who was working the register) for being the coolest!

Desert Island
http://www.desertislandbrooklyn.com


You can now read the first chapter of my comic The Strange Ones here (includes front cover, blurbs, table of contents, and intro by my friend Joshua Izzo):
http://jusay.com/strangeones_01.php

I also rescanned my notorious short comic "Circumcised at 13" which you can read here:
http://jusay.com/circ13

Also, Forbidden Planet just re-ordered 10 copies of Jusay Pulp #1, so stop by their Union Square, NYC location to purchase a copy (you can find it in the independent comics/zines section - or just ask the friendly staff)!
http://fpnyc.com

Stay tuned as I add more free comics and more artwork on the site!

In animation news, check out "Brushing Kevin's Hair", a JASH cartoon written by Dax Flame that I worked on with Augenblick Studios:
http://www.youtube.com/watch?v=MDoA2LwkFC0


Bloody Pulp Magazine
Everybody, please check out the newly resurrected Bloodypulpmag.com website, reimagined by my friend and colleague Leigh Walls. In his more than capable hands, the new magazine is poised for greatness.

Zinefeast
Here's a pic of my table at Zinefeast 2013 at SUNY Purchase. Thanks to everyone for stopping by, to Olivia Fox who invited me out to do it, and my talented table mates/neighbors Jenny Zych (whose great devil girl print you can see to the right of the picture), Anthony Cudahy, Kris Mukai, and Nicholas Sumida.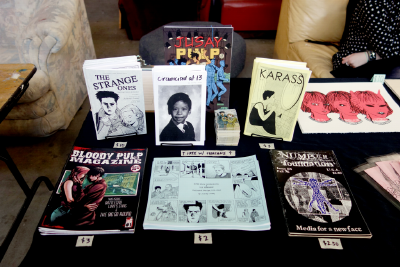 Jusay Pulp Review
Oh, check out this really nice mini-review of Jusay Pulp!

Analog Worship at Brooklyn Zine Fest 2013
http://www.lovetrain.super-coven.com/analog-worship-at-brooklyn-zine-fest-2013

"Issue One of Jeremy Jusayís Jusay Pulp is a stunningly-illustrated comic ode to 80s New Wave. Iím insanely envious of illustrators who can work in black-and-white, and Jusayís deft handling of his inks is in the greatest tradition of Los Bros Hernandez. The story is absolutely charming as well, and if youíve ever wanted to see the ghostly incarnation of Joy Division disrupt a mugging, then THIS IS YOUR BOOK, friend." -Tenebrous Kate

Zine & Art Weekend
Finally, almost forgot to mention that my zines are on display and for sale at the Book and Job Gallery in San Francisco, CA. They were part of a show called Zine & Art Book Weekend that spanned from March 29-31, 2013. There should be copies of Bloody Pulp Magazine #1, Notes From Underground & The Pessimist Collected Strips, and Karass #10. You can see pictures from that event here.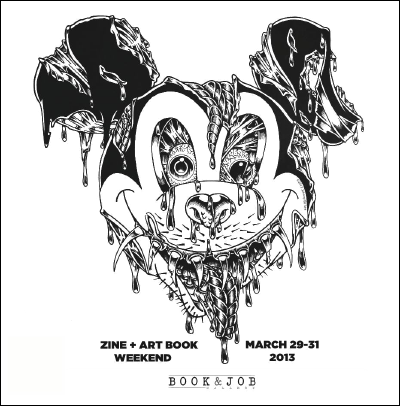 Just wanted to let everyone know that I will have a table selling my comics and zines at Zinefeast at SUNY Purchase on Sunday, May 5, 2013, from 1-6PM! If you're in the area stop by, I hear there's gonna be free burritos!


Updated Jusay Pulp #1 cover to include price label.

Updated Jusay Store and postage prices.

Added The Strange Ones, Volume I to the Jusay Store.

You can now pick up a copy of Jusay Pulp #1 at Forbidden Planet NYC! (Picture taken by my cousin Christine.)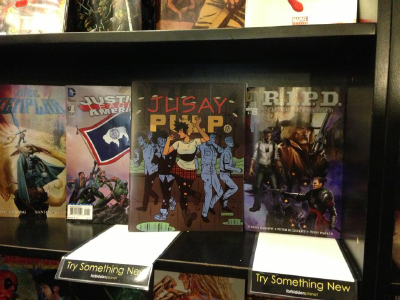 Come out to the second annual Brooklyn Zine Fest, where I will have a table selling my zines and comics, including the hot-off-the-presses Jusay Pulp #1!

The festival is from 11am-6pm this Sunday, April 21, 2013. And it's free!

If you can't make it to the festival, you can also order a copy of Jusay Pulp #1, and other fine comics and zines, direct from me at the Jusay Store.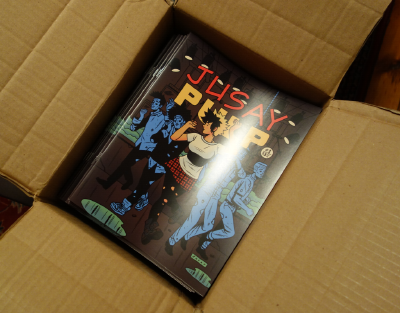 Check out this TED-Ed animation I worked on (storyboards, design, layout) with Augenblick Studios (animation by Ioana Alexandra Nistor).

TED-Ed - Jessica Wise: How fiction can change reality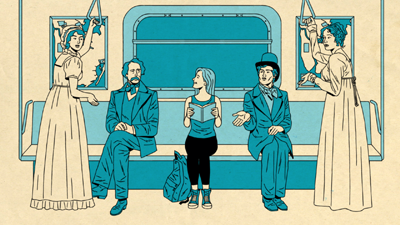 Updated store. Added PayPal buttons.

Updated Cafepress store. Added Thin Red Line mini poster print. Buy one!


Thanks to everyone involved in making the Brooklyn Zine Fest 2012 a rousing success!




Karass in the news:
Meet Your Zine Maker 26: Jeremy Jusay
http://brooklynzinefest.com/2012/01/25/meet-your-zine-maker-26-jeremy-jusay-2

A Day at the Brooklyn Zine Fest (we have a brief mention)
http://www.brokenpencil.com/news/a-day-at-the-brooklyn-zine-fest

Updated artwork, store, reviews, and resume.


Fixed broken html in home. Updated artwork (added Newsies illustration), resume (added UA Season 2), links (Cain's Tavern), and store (I Love Bad Movies Volume 4).


Updated home illustration (Barbarella for I Love Bad Movies 3).
Updated artwork (added I Love Bad Movies 3 cover, Thin Red Line poster, "Lucas" comic).
Updated resume (added ILBM, Karass).
Updated store (added I Love Bad Movies, edited text for BPM and Karass, removed outdated PO Box for ordering Karass).
Updated links (took down dead ones, and updated some text).


Check out Ugly Americans, which I helped board and design (background-wise). Airs Wednesdays at 10:30pm EST on Comedy Central.

Also check out the Ugly Americans page on the Augenblick Studios website (which I co-designed with Aaron Augenblick).


Check out the Ugly Americans trailer at the Comedy Central website. I worked on both backgrounds and storyboards for the show (which was produced at Augenblick Studios). It'll air March 2010.


Updated resume and added backgrounds to artwork page (Wonder Showzen, Ugly Americans, Youngins, Louis CK, Superjail, and more to come).

See latest Augenblick Studios demo reel!


Finished Youngins BGs.


Updated resume page (added Ugly Americans and Youngins).


Started Youngins BGs.


Finished BGs for Ugly Americans pilot.


Updated resume page (added P3 Entertainment).


Modified contact page (got rid of PO Box - will get another soon).

Superjail billboards are now up in Manhattan. This one's on Bleeker and Lafayette, and this one's at Bowery and 4th Street (photos by Kris Wollinger).


Updated resume and links page (added HTAnimation.com - Henry Thurlow Animation).

Also updated reviews page (added review of "Battle Cry").

And don't forget to catch the premiere of Superjail (which I did backgrounds for) on Adult Swim at 11:45pm, Sunday, September 28, 2008! The pilot can once again be seen on the Adult Swim website here.


Updated homepage (changed graphic to "Ghosts of New Wave" cover, removed link to BPM), resume (added Superjail Season 1 and Augenblick redesign), and store (added BPM #1 and BPM store). I also changed the date color on each page to black.

Will update artwork soon!


Finished Superjail Season 1 backgrounds!


Check out the newly redesigned Augenblick Studios website, which I designed and programmed with Aaron Augenblick, Joy Kolitsky, and Kris Wollinger.

For the first time ever, you can watch pretty much any animation we've ever worked on. Also check out the new signpost, which I designed and Joy painted. Enjoy!


Cartoon Brew has just published a great write-up for the cartoon I'm doing backgrounds for, Superjail. Read it here:

www.cartoonbrew.com/tv/superjail


Bloody Pulp Magazine is now available for purchase at Jim Hanley's Universe (in their Manhattan store) and - starting next week - Midtown Comics Times Square (in their Manhattan store or for online order). Please support these fine comic book shops!


Updated bloodypulpmag.com. We now have a working blog in place. Please check it out periodically as Glenn, Leigh, and I will be posting news, sketches, previews, revelations, confessions, etc.

We also now have a MySpace page at http://www.myspace.com/bloodypulpmagazine.

You can order your copy of Bloody Pulp Magazine #1 from Comixpress around Christmas 2007.


Added Superjail BGs to artwork page.


Fixed Philippines blog. Apparently, someone had modified the index.php file to load a trojan called JS/Psyme into the browser's cache. I just downloaded the latest Wordpress index.php and uploaded over the hijacked file. I also fixed the graphics of the blog and added a new entry. Will add more soon.


Added more artwork (mainly backgrounds).

Also updated resume.


Updating artwork page over the next week or so. Please check back frequently for new additions.

Changed the front graphic.


Had a blast at San Diego Comic Con 2007! Many thanks for the inspiration and comraderie.


Added Leigh to my links page.


Check out the new Adult Swim pilot Superjail that I did half the backgrounds for.

Also, check out my friends Sharon and Mey dancing up a storm on YouTube.


Check out this awesome review of Golden Age at AWN Magazine:

Fresh from the Festivals: April 2007's Reviews
http://mag.awn.com/index.php?ltype=pageone&article_no=3251&page=3


Bye bye, 33.


Went to the Philadelphia Film Festival with Aaron Augenblick, his friends, and his family, where Golden Age was shown. The audience was terrific and afterwards we enjoyed a night of the usual debauchery. Thanks, Philadelphia!


RIP, Kurt Vonnegut.


Great news, everybody! Golden Age, a webshow I worked on with Augenblick Studios, was just made an official honoree of the 11th Annual Webby Awards (the Oscars of the Internet) in the category of animation.

Also, Golden Age and "Aunt Flo" (a Wonder Showzen/Augenblick animation I worked on) will be receiving awards at this years Asifa Awards.

Lastly, Golden Age will be shown at this year's Philadelphia Film Festival this Sunday, April 15th, as part of the 'Cartoons for Big Kids' showcase. Be there!


Adult Swim will air the Superjail pilot (for which I did half the backgrounds) on May 13th, so mark your calendar!

Updated resume (added Louis C.K. gig and Bloody Pulp Magazine).

Updated links (added Bridget McKenna and Glenn Urieta).


Finished backgrounds for the animation in Louis C.K.'s HBO special. Animation by Augenblick Studios. Will probably air sometime in 2007.


Golden Age is now appearing on Comedy Central's 'Web Shows' on Monday nights at 2AM (technically Tuesday morning). Set your TIVO's!


Enjoying the Sundance Film Festival 2007 with Augenblick Studios. Check out the official blog!


Updated XPi site's FAQ page.


Going to Sundance with Augenblick Studios for our work in The Ten and Golden Age!

Changed homepage illustration.

Updated resume page (added Superjail and Pledge This!).


Started backgrounds for the Superjail pilot for Augenblick Studios! Co-created by Christy Karacas (of 'Bar Fight' and Cheeseburger fame), it will eventually be shown on Cartoon Network's Adult Swim.


Fixed date error in news section.


Got rid of xpi email address and updated XPi site.


Updated resume and links pages.


Updated artwork page with some new comics entries (it's been two years) - a 'splash' page from The Strange Ones #5, and a couple of panels from Notes From Underground "Fireworks," both of which can be found in Karass #10 (obtainable through the store page on this website - plug plug).

Will update background samples this week (it's also been two years - the subway illustration predates 9/11).


Launched Bloody Pulp Magazine website (bloodypulpmag.com). There's just a teaser there for now.

Golden Age, an Augenblick Studios web cartoon for which I did the backgrounds, is now appearing on Comedy Central's Motherload!

Updated resume page (added Farley Towne, Supergroup, and Golden Age).

Fixed sitewide template code (changed header to head - duh). Also added META tags to homepage so Google will have a nice description.


Added link to Genevieve Southern's website in store page.

Updated PayPal Donate button on XPi site (was using my old Yahoo email address).

Updated email addresses in Commute site (was using my old AOL address).


Updated store page - added a contributor list for Karass #10, so Google can see 'em. I'll get those copies out to you guys ASAP.


Updated store page with Karass #10 ordering info and added announcement on the homepage.

Updated links page (Patagonian link is active again, and added the skye is falling.)

Also, if you're in the Greenwich Village/Lower East Side area of Manhattan, look for the little Karass flyers in various bookstores, record shops, and tea places. Kseniya (the sky is falling zine) and I peppered the area with our adverts last Saturday.


Karass #10 is now available for order. It will sell for $3.00US (postage included). You can pay via PayPal or through snail mail. I'll update the website to facilitate online ordering soon.

Thanks for your patience.


Updated homepage graphic.


Opened the Jusay Store at http://www.cafepress.com/jusay. Available for purchase are Strange Ones-related t-shirts, coffee mugs, and stickers. (Updated store page as a result.)

Also, Karass #10 will be coming out shortly, so please check back often for updates.

Updated resume page. Added Wonder Showzen (2nd season) and Nickelodeon Extras: Helpful Hints for Humans (also did character layout for it).


Worked on the backgrounds (along with Lynda Nettleship and Joy Kolitsky under the direction of Aaron Augenblick) for 'It's Jihad, Farley Towne', a Peanuts parody for Denis Leary's Merry F#$%N Christmas Special. Premieres on Comedy Central on November 27th, 10pm ET. You can also watch it on Comedy Central's website. Forgive me, Charles Schulz.


Officially started work on the second season of MTV2's Wonder Showzen with Augenblick Studios. I will be reprising my role as background designer (alongside Lynda Nettleship this time, with whom I worked on Shorties Watchin Shorties) and technical supervisor. Should be pretty fun.


Updated links page. Added a long-overdue link to Sharon Mathis' website. Hopefully Google will see her now.


Updated resume page. Added Katbot, DVD Production section, and more special skills.

Updated links page. Added Dave Ratzlow (who has his own section under Music), and updated a few others, notably Joy Kolitsky's website, which I helped out on. Have fun.


Redesigned Dell Latitude XPi CD MMX Unofficial Information Center and moved it over to jusay.com/xpi from Geocities/Yahoo. Check the site over the next few weeks for updates, new articles, and other fun stuff. Plus, you can send me money now via PayPal!

Updated links and resume page to reflect XPi change.


Started freelance background design work on Walt Disney's upcoming cartoon, Katbot, for Funny Garbage.


Added Wonder Showzen (formerly Kids Show) to resume and links pages. Also updated some of the other links' descriptions. Have fun looking for the changes.

Just launched some small renovations at the Augenblick Studios site. Check 'em out.

Karass #10 deadline now hovering around April. The 11th anniversary of the first issue just passed on March 4th. It was due to that event, along with others, that I was led down this sorry path of creativity and ultimate procastination. Well, it beats designing missiles (or does it?). Hurray for dreamer's disease.


Updated homepage graphic. This picture was taken while walking through the Brooklyn Heights Promenade on a rainy Valentine's Day. I thought it was fitting.


Updated links page (changed Chuck's website).

Also moved the Karass #10 deadline to January 15, 2005. Anyone see a trend here?

Happy New Year, everybody.


Moved the deadline for Karass #10 to January 1, 2005. Sorry, folks.


Fixed 'Circumcised at 13' links in links and reviews so that they no longer go to the Angelfire site. Thanks, Kristofer!

Moved the Karass #10 deadline to December 1st.


Corrected broken Shorties link in resume section.


Renewed my Brooklyn PO Box. I apologize if you mailed something to me and it was mysteriously returned to you. Please resend if this is the case. I'm still alive. Barely.


Updated links section. Mostly removed dead links. If your site was undeservedly erased, or you have an alternate site that I didn't know about, please let me know via email.


Added Circumcised at 13 to jusay.com directory (jusay.com/circ13). Created a subdomain (circ13.jusay.com) and placed a redirect at the Angelfire site.


Updated and modified artwork section. Added comics and animation background design. Will add more categories (illustration, photography, design) later. Check back soon.

Replaced all alt tags with title tags to accommodate Mozilla users.


Created PHP/MySQL backend for news section, and updated or modified older entries (modification dates noted in italics).

Implemented template system throughout the site to facilitate sitewide design changes. Removed invisible counters in the process. Also removed design, animation, and words sections. Made all body fonts size=-2.

Updated resume section.

Added uncalledforproductions.com to links section.


Switched domain registrars (Registerfly.com) and webhosts (Lunarpages.com). Will be updating the site massively in the coming weeks.

Also started work again on The Strange Ones and Karass #10. Deadline: October 1, 2004. Hopefully will have a PayPal system set in place for ordering.


Officially launched the new Gleasonsgym.net website, which was designed by Kevin Lofton, and programmed by me.


Added new PO Box to contact section.


Updated Augenblick Studios website (including Shorties Watchin Shorties section).
Official last day of production on Shorties. Now I can sleep.


Group photo shoot at Augenblick Studios.


Updated resume.
Updated links.
Removed PO Box address everywhere on the site and replaced with current date.
Updated contact.


Updated links page (changed Shorties URL).
Updated portfolio page (updated Augenblick stuff).


Created new signpost for Augenblick Studios, and updated other portions of the site.


Updated links page.
Finishing up production on a new show for Comedy Central, Shorties Watchin Shorties.


10th anniversary of Karass magazine. Hurrah.


Updated homepage graphic. That's my belated (as always) holiday greeting card. ["Ice Mine." Modified 09-05-2004.] Coming soon to your mailbox.
More changes to come.


Officially launched Hottoddieonline.com, a children's clothing website designed by Kevin Lofton and programmed by me.


Launched Kevina.tv redesign. Designed by Kevin Lofton and programmed by me.


Updated words.


An old "Characters for J.L." comic of mine appears in a fictional blog for the Out There website (scroll to the bottom).

Updated resume.


Completed backgrounds for 'House Arrest' pilot (Augenblick Studios).


Updated resume.


Completed backgrounds for 'Salvatore' pilot (Augenblick Studios).


Updated resume.


Regrew my goatee.


Fixed broken link (Jusay logo) in animation.


Shaved my goatee (aka poet's beard) after 8 years.


Updated links.
Updated resume.
Fixed animation table irregularity.
Added META tags to home for search purposes.


Created redirects from old AOL site.
Updated resume.
Updated links.


Changed all pages to .php to create invisible counters.
Consolidated font colors in words articles.
Updated resume.
Updated links.


Updated design.
Moved Commute from AOL to Phpwebhosting.com.
Updated links to reflect the aforementioned move.


Moved site from AOL to PHPWebhosting.com (finally).
Initiated new design.


Updated homepage graphic.
Updated resume.
Changed copyright dates to 2002 sitewide.


Added a total box for store page (and its print version), and altered directions to fit. Also added e-mail and website address on both, and shrunk the print version so it could print on one page.


Moved animation files (marwood.gif and porcupine.gif) from angelfire.com to geocities.com.


Modified Jusay welcome page (index.html) to redirect to introduction page (index2.html) after 3 seconds.


Updated e-mail.


Modified www.jusay.com redirect page.
Added meta tags to homepage.
Corrected lack of </font> tags within <td> tags, sitewide.
Updated comics page.
Updated poetry page.
Updated resume page.
Updated links for nondairy.com and the New Museum of Contemporary art in reviews page.
Fixed look of store page.
Fixed thumbs for 'made in japan' in illustrations page, and for 'i am a klingon' on poetry page.
Changed shipping address to PO Box 3146, LIC, NY 11103 (call-out placed on homepage, updated instances in store and store_print pages).


Visitors reach 2000.


Jusay Portfolio sitewide update initiated. Changes:
- Updated homepage graphic and popup window.
- Updated comics.
- Updated illustrations. ** Added cover story archives. **
- Added design page.
- Updated photography.
- Fixed popup JavaScript on poetry page and code on individual poem pages.
- Streamlined individual animation pages.
- Updated resume.
- Updated links. Changed header type.
- Changed type on news page.
- Streamlined store page. Added a printer-friendly version.
- Updated e-mail. Changed e-mail address on every page (call-out placed on homepage).
- Standardized all thumbnail title fonts.
- Standardized all thumbnail and review images to 100x140 pixels.
- Added top and bottom anchor tags to resume, reviews, links, news, store, and e-mail sections.


Updated Abby Denson's link on both the links and resume sections. Thanks, Julian.


Launched Dell Latitude XPi CD MMX Unofficial Information Center website using Geocities. [Added 09-04-2004.]


Updated e-mail.


Updated e-mail.


Updated e-mail.


Updated e-mail.
Updated links.
Updated link to purchase Poetnoise 2000 in the news section (see below).


Updated e-mail.


Added link to Jusay Portfolio in the Commute homepage.


Updated e-mail.
Acquired thestrangeones.com. [Domain has since expired. Modified 09-04-2004.]


Third 'Jeremy Jusay Portfolio Update' newsletter sent out.
Added newsletter archive links to news section.
Changed font to Verdana in 'Made in Japan' popup window.
Updated e-mail.


The Jusay Store now open for business (call-out placed on homepage).


** 7th Anniversary of Karass **
Updated comics again.
Added link to Jusay Portfolio in the Circumcised at 13 homepage.


Jusay Portfolio sitewide update initiated. Changes:
- Made first Jusay logo static gif.
- Updated homepage graphic and popup window.
- Modified spacing between type throughout.
- Modified navigation bar.
- Imposed a three item limit on all thumbnail pages.
- Fixed 'Circumcised at 13' links.
- Updated comics.
- Updated photography.
- Shrunk animation thumbnail images.
- Updated resume.
- Updated links.
- Updated e-mail.
- Added news page.


Streamlined Circumcised at 13 by converting the jpegs into optimized gifs and cleaning up the HTML.


Poetnoise 2000, for which I did the cover illustration, is published. Visit Chris Bodor's website to purchase a copy. [Link formerly powells.com. Modified 09-04-2004.]


Visitors reach 1000.


Acquired jusay.com using Register.com.
Added redirect to AOL site using above registrar's domain forwarding feature. [Modified 09-04-2004.]


Jusay Portfolio redesign launched (JavaScript added).


Second 'Jeremy Jusay Portfolio Update' newsletter sent out.


First 'Jeremy Jusay Portfolio Update' newsletter sent out.


Visitors reach 100.


Circumcised at 13 launched on Angelfire.com.


Commute launched on AOL.com.


Jusay Portfolio launched on AOL.com.




Home

|

News

|

Artwork

|

Resume

|

Reviews

|

Links

|

Store

|

About

|

Contact

Copyright © 2018 Jeremy Jusay